Stock Availability: Colours Blue and Black are readily available. All other colours are on special order with 6 weeks lead time.
Spinlock's Deckvest LITE, has been given a stunning new clean and contemporary look for 2017 along with the additions of a new model the Deckvest LITE+, which includes a harness. The compact, lightweight and colourful design has fast become the lifejacket of choice across a diverse range of watersports enthusiasts.
Ideal for fastcraft, RIBs, power and sail boating, paddle sports, fishing and open powercraft, the Deckvest LITE is built for lightness and speed.
• Ultra lightweight and low profile, comfortable design
• Automatic inflating lifejacket
• Easy side donning
• Single crotch strap with recessed clip
• Deckvest LITE+ has integrated deck safety harness with soft loop safety line attachment point.
• Toggle attachment point for Chest Pack
• Deckvest LITE available in 5 colours: Black, Pacific Blue, Tropic White, Grenadine Pink and Flow Green (Deckvest LITE+ available in black only)
• Optional Pylon Light™ – high intensity, water activated flashing LED Light. 23cm flexible antenna wand gives improved visibility above head & water
• Optional Lume-On™ - Lifejacket bladder illumination lights
• Optional Sprayhood - to reduce the risk of secondary drowning
• Optional RescueMe AIS MOB1 available to purchase as a stand-alone unit or supplied fitted integrated within a Deckvest
• Easily converts to 'manual only' firing head with a Manual Conversion Kit
• Through Life Support (TLS) Registration extends product warranty to 5 years
Specifications:
Deckvest LITE and Deckvest LITE+
170N Buoyancy
CO2 Cylinder - 33g
Weight - 860g
Approvals:
The Deckvest LITE is approved to the following international standards:

CE Approved
ISO 12402-3 Lifejacket (170N)

The Deckvest LITE+ is approved to the following international standards:

CE Approved
ISO 12402-3 Lifejacket (170N)
ISO 12401 Deck Harness
Size guide:
One Size: Chest measurements 60-145cm (23.5-57"); Weight 50kg+
UML Mk5 Inflator
This is a water sensitive activation system that uses a compressed paper capsule which dissolves when wet which then releases a spring to puncture the CO2 cylinder.
The cap is designed so that only water flowing upwards through the unit will cause it to activate. Water, spray and rain running down the jacket will not cause activation.
OPTIONS:
Personal Locator Beacon: PLB1
Man Over Board Device: MOB1 or Kannad R10
Professional MOB1 or PLB installation
Not sure what Spinlock PFD is right for you? Take a look at the comparison chart.
Read What Other's Say (Yachting World March, 2015 by Toby Hodges)
"The Spinlock Deckvest LITE is one of the best lifejackets I have used, principally because it feels the least cumbersome. I am not going to argue that it's the best lifejacket around for protection once activated, nor for turning a wearer in the water – plus the inability to attach a lifeline restricts its use to coastal or calm weather conditions. But if it is the most comfortable lifejacket I've ever worn, it's the one most likely to persuade sailors to wear it in the first place.
With its Deckvest range, Spinlock has redesigned inflating lifejackets to make them less awkward; stylish, even. It's a style that has been copied, but is yet to be bettered. And the LITE is the lightest and best yet for any normal sailor, for weekending, coastal racing or cruising.
A double zip runs all around the horseshoe-shaped jacket, which makes it easy to check and repack the fluorescent bladder. A lifting strop is hidden within and the CO2 cylinder has an easy-to-understand colour-guide to check its status. That said, you'll need to be an expert in origami to repack the inflatable innards into the slim package. And the LITE is a fairly basic model – a sprayhood and light are optional extras – so it might be worth upgrading to the 5D model for a more feature-packed jacket.
The single crotch-strap and buckles are neat and well designed to avoid snagging. The jacket also comes in a net bag for packing, allowing air to circulate when stored.
Verdict
Put all of this together and you have a light lifejacket that is also unobtrusive – it's now the first item I pack when travelling to a boat test."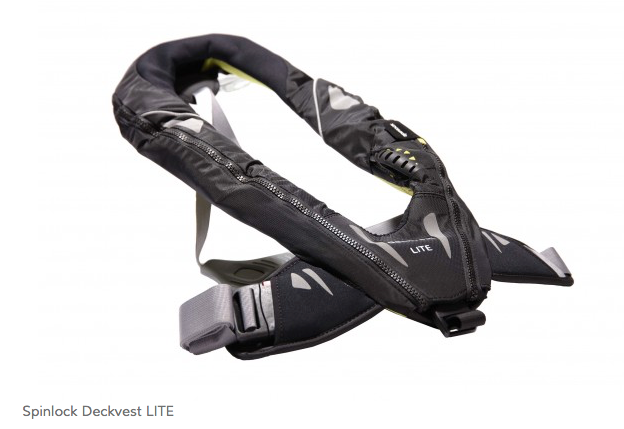 Ideal for:

Inshore

Level:

1

Harness:

No

Inflatable:

Yes

Automatic:

Yes

Manual:

No
Reviews
Light weight, comfortable and easy to put on. Used for ocean racing, no problem wearing for extended periods. I changed to the manual inflation, that kit is expensive considering its only a plastic cap.

Deckvest Lite is a great product for my purpose

For inshore big boat racing the Deckvest Lite is the best available for this application. Whilst no serious life jacket is truly comfortable this unit is not intrusive. The crotch strap would be better duplicated as on other Spinlock life jackets but it is still OK. Any life jacket without a crotch strap should be disregarded in my opinion. Overall I am pleased with this product and am happy to recommend it for the above application.