Product Description
The complete lifejacket harness for all sailors, the 5D has been ergonomically designed to fit comfortably and sit on the shoulders, keeping away from the neck and waist for full freedom of movement. Includes everything sailors require for offshore sailing including sprayhood, red lifting strop, approved lifejacket light and award winning bladder illumination lights.
High specification automatic inflating lifejacket harness
Very light, comfortable design for use over long periods
Compact and unobtrusive
Pylon Light™ – high intensity, water activated flashing LED Light. 23cm flexible antenna wand gives improved visibility above head & water
Lume-On™ - Lifejacket bladder illumination lights included
Deck safety harness with soft loop safety line attachment point
Double crotch straps
Sprayhood - to reduce the risk of secondary drowning
Quick access emergency safety line cutter
Toggle attachment point for Chest Pack - DW-PCC (170N only)
Available colour: Black only
Unique 'Shoulder Fit System' flexes and locates ensuring correct fit on shoulders every time
New back adjustment – hidden and non snag for easy, simple adjustment
Easily converts to 'manual only' firing head with a Manual Conversion Kit
Through Life Support (TLS) Registration extends product warranty to 5 years
Inflation System: UML Pro Sensor inflator
This is a water sensitive activation system, that uses a compress paper capsule which dissolves when wet, which then releases a spring to puncture the CO2 cylinder.
The cap is designed so that only water flowing upwards through the unit will cause it to activate. Water, spray and rain running down the jacket will not cause activation.
The Pro Sensor has two indicators that show the status of the CO2 cylinder and firing head.
Specifications:
170N
CO2 Cylinder - 33g
Weight -1310g
Approvals:
The Deckvest 5D Pro Sensor is approved to the following international standards:
CE Approved
ISO 12402-3 Lifejacket (170N)
ISO 12401 Deck Harness
Through Life Support:
Registering your Deckvest gives you the benefit of our unique online support, to help ensure that your lifejacket is reliably maintained. Lifejacket warranty is extended to 5 years upon registration*
Prompts for winter care, storage and pre-season safety checks
Access to latest online support and advice
Updates on MOB prevention and advice
Size Guide: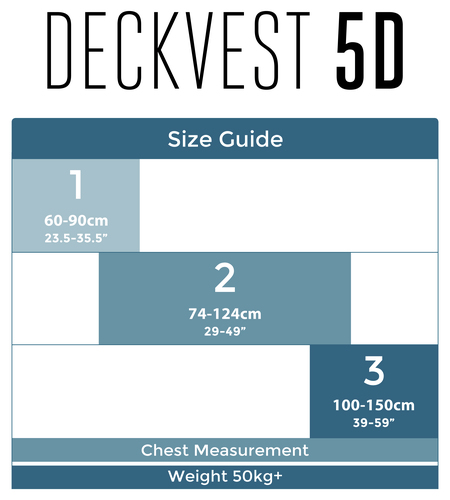 OPTIONS:
Personal Locator Beacon: PLB1
Man Over Board Device: MOB1 or Kannad R10
Professional MOB1 or PLB installation
Not sure what Spinlock PFD is right for you? Take a look at the comparison chart.
Product Reviews
A bargain at half the price

Why cut corner, get a vest that is so comfortable you wear it all the time ... and then when you need it keeps you afloat and helps your rescuers find you. A bargain at half the price

I haven't regretted spending those extra dollars for a minute

One of the many things that attracted John and I to each other is that we are both gimped. John has one leg shorter than the other and a slight scoliosis and I have congenitally flat feet and knock-knees. John walks like a duck and I walk like a penguin. It is a match made in heaven!

But there is a downside to being the gimp twins: carrying heavy packs for long hikes is out (meaning no overnight camping trips without a Sherpa) and wearing traditional lifejackets during multi-day passages, especially with the added weight of an integral harness with attached tether, which we wear most of the time, has caused us both untold hours of neck and back discomfort.

However, when we visited the London Boatshow in January 2008, we came across the Spinlock booth and had a long chat with the rep. He was so convincing that when it came time to replace my old Sospenders lifejacket, I purchased a Spinlock, despite its higher cost.

And, let me tell you, I haven't regretted spending those extra dollars for a minute. In fact, last spring, while I drove the car, John wore my lifejacket on a two day passage and, right after his arrival in Nova Scotia, he retired his Mustang lifejacket and bought a Spinlock too!... Re-posted from http://www.morganscloud.com/20...